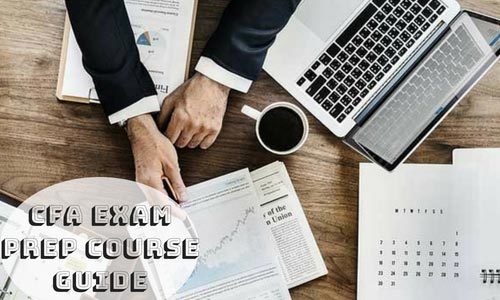 Best CFA Exam Prep Course
​Studying for the CFA exam is a massive undertaking. Between keeping a full time day job and studying for the test, it really requires dedication and time. One of the most efficient ways to prepare for the exam is to utilize a CFA prep course that offers a high quality study program. When I studied for the exam, I followed a self study program. I found that the single most effective method was to regularly practice test questions from a software program.
By regularly utilizing practice questions paying attention to the results, it was much easier to identify areas I needed to spend more time reading the original material. Conversely, it was also far easier to identify sections that I didn't need to spend as much time studying. With so many available CFA prep course options, its really hard to identify a program that makes sense for you. I created a detailed grid to help highlight the major differences among the best CFA prep course providers so you can make a more informed decision.
We will continue to update the page over time with more CFA prep course providers.
Prep Course Providers
| | | | | | |
| --- | --- | --- | --- | --- | --- |
| | | | | | |
| | | | | | |
| | | | | | |
| | | | | | |
| | | | | | |
| | | | | | |
| | | | | | |
| | | | | | |
| Optional 1 on 1 Instruction | | | | | |
| Access via Mobile & Tablet | | | | | |
| | | | | | |
| | | | | | |
| | | | | | |
| | | | | | |
Bloomberg Exam Prep
​The Bloomberg name carries serious cachet in the financial world. The Company used its considerable resources to develop a comprehensive CFA review course program. The program includes a range of options to meet the needs of a wide range of student learning types. Highly disciplined students will find self study options and students interested in more personalized study programs will find valuable resources as well. Bloomberg offers 3 study programs.

Essential

Basic Self Study Plan
$599

Full Access to online curriculum and question bank

Online tutoring from expert instructors (20 questions)

Access to 6 mock exams

Not included

Premium
Comprehensive Self Study Plan
$999

Full Access to online curriculum and question bank
Online tutoring from expert instructors (80 questions)
Access to 8 mock exams
Not included
Ultimate
Self Study and Tutoring Plan
$1,599

Full Access to online curriculum and question bank
Online tutoring from expert instructors (No limit)
Access to 10 mock exams
2 full tutoring sessions from expert instructors
Adapt Prep
​Adapt Prep is a relatively recent entrant in the CFA exam prep industry. The cornerstone of the company's program is its adaptive software developed using proprietary algorithms. Using these algorithms, Adapt offers a highly tailored study program geared toward your personal efficiency and study habits. Adapt offers 3 study package options.

Practice

Basic Option with Question Bank Access

$89

Access to 3,000 question adaptive online question bank

Online access packages ranging from 30 days ($89) to 180 days ($149)

Question bank includes video solutions

Learn
Question Bank & Full Course Curriculum
$199

Available as a 180 day subscription
Over 40 hours of video instruction
Nearly 500 page curriculum manual

Includes full access to the adaptive question bank
Complete
Full Program Access with Pass Gurantee
$299

Provides full access to the Learn and Practice curriculum packages without the day limitations
Free access to the Complete curriculum until you pass

Apptuto
​Apptuto's CFA prep program offers an innovative online platform designed to increase study efficiency by offering easy access to program materials wherever you study. Apptuto's program offers a comprehensive question bank designed with an adaptive algorithm. The unique, gamified program offers students an engaging online platform with a downloadable app so you can study offline wherever you want.
Read our full review of Apptuto.
Premium

Full Self Study Program

$199

Video and Study material organized by LOS

Adaptive question bank available online and offline with downloadable app

Unlimited online mock exams

Bootcamp

Self Study Program with Additional Video Instruction
$599

Includes all Premium material
4 Full days of bootcamp style instruction

Bootcamp instruction is recorded for your review as needed

Available 1 on 1 coaching
Free access to program until you pass
Live
Self Study Program with Comprehensive online classes
$1,499

Includes all Premium material
Access to 16 weeks of live online classroom instruction

The live online classes are recorded to access as needed

Available 1 on 1 coaching

Free access until you pass

Analyst Prep
​Analyst Prep offers two focused curriculum options. Students most comfortable with a disciplined self study program have access to detailed study notes and a comprehensive question bank. For those students that prefer a combination of classroom learning and self study, Analyst Prep offers a more personalized tutoring option. Analyst Prep also offers one of the more comprehensive free trial options which includes free access to 150 questions and a sample of the video curriculum.

Premium
Comprehensive Self Study Package
$129

Question bank includes over 3,000 questions

4 full mock exams

Study notes covering full curriculum

Free access to the program until you pass

Coaching
Self Study Package + Tutoring
$599

Full access to the premium self study package
5 hours of 1 on 1 tutoring
Personalized study plan with Final Review

Free access to the program until you pass

Kaplan Schweser
​Kaplan Schweser offers a variety of product options that range from self study to comprehensive and in depth classroom programs. Kaplan offers some of the most comprehensive personalized instruction options. The classroom instruction options include live instruction in select cities with options for additional 3 and 5 day in person extra instructional programs.
See our full review of the Kaplan Schweser CFA Prep Course here.
Study Notes
Basic Self Study
$349

Access to Schweser study notes which cover each LOS

3 full mock exams

Ability to ask questions to instructors during set office hours

Formula card with quick access to most important formulas and concepts
not included
not included
Essential
Comprehensive Self Study

$649

Access to Schweser study notes which cover each LOS
6 full mock exams
Ability to ask questions to instructors during set office hours
Formula card with quick access to most important formulas and concepts
Access to online question bank
Free access if you don't pass
Premium
Self Study & Classroom
$1,099 to $1,399

Full access to everything included in the Essential Package

Weekly classroom instruction available online or in person at select locations

Over 40 hours of recorded instruction by LOS

Ability to ask unlimited instruction questions

Final review workshop not included

Premium Plus
Self Study & Enhanced Classroom

$1,499 to $1,799

Full access to everything included in the Essential Package
Weekly classroom instruction available online or in person at select locations
Over 40 hours of recorded instruction by LOS
Ability to ask unlimited instruction questions
Final review workshop available online or in person
---