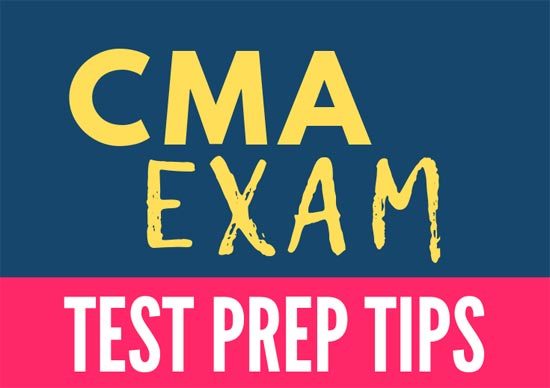 Best CMA Exam Prep Course Guide for 2020
Preparing for the CMA exam is a major investment of time and energy. The exam includes two parts which are each 4 hours long. Students must pass both parts within 3 years. The exams aren't easy and only have a 50% global pass rate. Selecting the best CMA review course for your learning style is a critical aspect of successfully passing the CMA exams within the 3 year testing window.
The biggest challenge in passing the exam is managing a full time work schedule and studying the material. Even though the CMA exam is not as time and study intensive as the CPA exam, it still requires a significant amount of preparation. On average it takes 12 to 18 months to pass both exams. Each exam requires an average of 150 to 170 hours of total study time.
How to Select the Right CMA Prep Course for you?
Before selecting a prep course, you need to to make an assessment of your natural learning style. Think about how you most effectively study for an exam. Do you prefer to listen to lectures, read physical textbooks, and have access to instructors to help you through sticking points? Or do you prefer a less expensive, dedicated self study option where you can set your own study schedule and stick to it?
Each person will have their own learning preferences and style. The key is to make sure you're honest with yourself and your preferences. If your prefer a more customized learning platform, you're better off selecting a bundled course program with extra features. Purchasing a bundled course will save you money upfront.
If you are confident in your ability to set your own study schedule and know you have the discipline to follow through with it. Surgent offers a really advanced self study program that gives you access to a highly tailored adaptive learning platform with video based lessons and a comprehensive test bank to practice questions.
Best CMA Review Courses
(note: if you're viewing the chart on a mobile phone, use your finger to scroll the chart to the left of your screen to see all columns).
| | | | | |
| --- | --- | --- | --- | --- |
| | | | | |
| | | | 3 courses / multiple supplements | |
| | | | | |
| | | 1 mock exam with 100 questions & 2 essays | | |
| | | | | |
| | | | | |
| | | | | |
| | | | | |
| | | | | |
| Access via Mobile & Tablet | | | | |
| | | | | |
| | | | | |
| | | | | |
| | | | | |
Surgent
Surgent is well known for offering one of the most advanced adaptive learning platforms. Surgent's A.S.A.P. proprietary algorithm measures your current knowledge levels and constructs a study program to most efficiently address your weaknesses. The algorithm will continue to monitor your progress throughout the study program to continually address potential weaknesses in real time.
Students have the option of choosing three primary course options. Each course option offers a different degree of personalization which will meet a variety of learning styles.
For more information, see our full review of Surgent's CMA review course.
Essentials Course
Basic Course Option
$799
Adaptive Learning Platform
Over 2,800 multiple choice questions and 38 essay questions.
Unlimited Practice Exams.
12 months of access.
Premier Course
Enhanced Course Option
$1,199
All features included in the Essentials Course.
Over 60 video based lectures.
18 months of course access.
Ultimate Course
Premium Course Option
All features included in Premier Course.
2 Virtual 1 on 1 coaching sessions with a tutor.
Physical textbooks & flashcards.
Unlimited Course Access.
Becker
Becker is a global leader in professional education with a 60 year track record. Becker is most well known for its extensive CPA exam prep course product. Becker applied that same reputation for quality to design a comprehensive CMA course.
Becker has broken CMA prep into two main courses. Students can purchase each course separately for $795 each or they can purchase both courses for $1,295, an 18% discount from the individual course price. The first course covers financial reporting, planning, performance, and control. The second course covers financial decision making.
CMA Individual Courses
Self Study Individual Course
$795 for each course (2 parts are available)
Hard copy textbook & ebook
Online lectures
24 months of access
Comprehensive practice test bank, digital flashcards, and mock exam.
Advanced analytics to track progress and set a customized study schedule
CMA Course Bundle
Self Study 2 course bundle
$1,295

Access to both courses at a discounted price
Includes all products and features of the individual courses at a discount.
Online final review designed to assess your readiness prior to exam day

Wiley
Wiley offers a comprehensive CMA study platform with a wide range of program options to meet the needs of all types of students. Wiley offers 3 primary bundle courses with an increasing range of features and options. The basic level course is ideal for students comfortable with self study program. The more premium course options include extra options that provide more instructor access and personalized advice.
Each course option allows students to purchase access to just a single course or both courses for a discounted price.
Silver Course
Basic Course Option
$900 both courses
$600 individual course
50 hours of video instruction & 800 pages of online text
Over 1,100 multiple choice questions and 10 essay questions
Digital flashcards
Adaptive learning platform with advanced diagnostics
Gold Course
Enhanced Course Option
$1,350 both courses
$900 individual course
All features included in the Silver Course
Access to Online Mentoring
Printed textbooks
Online test bank with an additional 3,800 multiple choice questions and 10 more essay questions
Platinum Course
Premium Course Option
$1,800 both courses
$1,200 individual course
All features included in Gold
11th hour Final Review program featuring 14 hours of video and extra mock exams
Printed flashcards
Combined 64 hours of video, 5,500 multiple choice questions, and 140 essay questions
Gleim
Gleim Exam prep has a long history and tradition of professional education test prep. The Company is well known for quality and customized product options that range from access to a dedicated practice test bank to more comprehensive product bundles that include a more traditional review program and enhanced personalized guidance.
Test Bank
Practice Question Access
$798
Access to online practice test question bank
Digital or Physical textbooks
​​

Traditional CMA
Comphensive Study Plan
$1,049
Practice Test Bank Access
Full online review course
Exam Mentoring from counselors
Audio lesson access
Full Length mock exams
Physical and Online textbooks
Premium
Enhanced Self Study Plan
$1,249
All traditional plan features
Over 100 hours of video lectures
Video based lessons
Unlimited access
Assistance from Gleim Accounting team
---