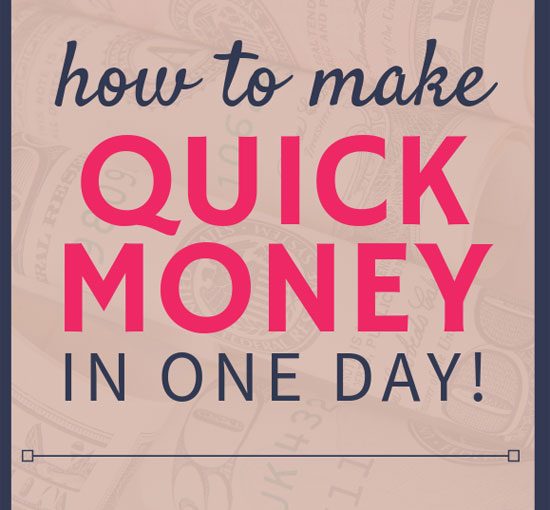 How to Make Quick Money in One Day
It can't hurt to earn more money, especially if you have extra time in the day to do so.  We've personally reached out to individuals who have made extra money by integrating several of these additional income streams into their life, and we learned about their experiences and perks from bringing more money into their wallets.
Whether you have a full-time job or are looking for completely new outlets to make a living, the benefits of earning more money can improve your life in ways you hadn't even thought about before.
For instance, you can pay off your debt and finally start saving money for that rainy day fund or a dream vacation. You can even help yourself reach milestones that work towards your bigger personal goals, such as going back to school or starting a business of your own. You'll be less stressed and more fulfilled by being able to afford the experiences you aspire to have.
These are some of the success stories we've heard from people who were able to make more money beyond their typical 9 to 5 job. From driving more to installing a simple app, they've helped us compile a list of the smartest ways to make more money, with many of these opportunities already available with the resources you have.
Using Your Car
Ridesharing with Uber and Lyft used to be a way for ordinary drivers to make owning a car more affordable or for individuals to get around the city more efficiently.
However, now these car sharing services have become a more mainstream way to earn a significant amount of extra income whenever you want. Uber and Lyft are the most popular two apps that people use for ridesharing, but other apps, like Juno and Via, also exist if you live in a large metropolitan area.
The biggest benefit we've heard about using your car to make extra money is the flexibility. Uber and Lyft drivers love being able to choose their own hours and figure out the schedule that works best for them. It's an opportunity to meet new, fascinating people outside of your own social circles, and we've even met people who drive for Uber or Lyft to promote their own entrepreneurial endeavors or side hustles.
Uber claims that drivers make $25 an hour on average while Lyft claims drivers can make $35 an hour, but this is all variable depending on where you are and how high the demand for cars is.
Both platforms offer great sign-up bonuses and various cash incentives from time to time to reward longstanding drivers for doing good work.
Neil from Philadelphia, PA: "I drive at night because it's the busiest time especially on weekends, but my wife and I just had a new baby, so I get to spend time with family during the day and make money while the little one sleeps. It's great because my wife and I definitely needed the extra money, but I feel like I'm not sacrificing any time with my family."
Nancy from Boulder, CO: "I actually began driving for Lyft because I was an insomniac, so it was a way to earn extra money instead of tossing and turning trying to sleep at night. But now I make more money than I expected to, so I even drive in the mornings and evenings outside of my full-time job!"
Delivering Food
More and more restaurants are getting on board for on-demand food delivery services such as Grubhub, UberEats, Postmates, and DoorDash. These companies are always in need of new drivers to deliver food at any hour in the day. Peak times of course are around lunch and dinner, but late night eats are also popular, making it very feasible to add extra income into your day.
Our interviewees say DoorDash is the easiest, quickest platform to sign up as a food deliverer. With an online form and fast approval time, DoorDash allows you to deliver food to people's homes and you can even continue working if you're traveling between cities.
Signing up as a DoorDash driver, or a "Dasher," comes with free gear such as a thermal insulated bag that keeps the food warm, and you could start making money the same week you sign up for the app. While the service does take a percentage of your earnings, it does guarantee you at least $10 an hour.
Earning tips in cash from your customers is the best way to make the most money from DoorDash, but it offers you opportunities to work on your own schedule and with your preferred mode of transportation.
Mark from Boston, MA: "Working with DoorDash has been super flexible. I get to even use my bike on nice days out, which is even faster than driving a car and gets me an extra leg exercise. I really like learning about new restaurants too, so now I always know the best places to go."
Taking Surveys
Now let's talk earning extra money from home using just a laptop or home computer. Taking surveys is a popular way to make more income in the Age of Data. Companies are always trying to learn more – and willing to pay you for it.
Survey Junkie is the most established website for sharing your opinions online in exchange for money. You get paid for taking surveys that are relevant to your life.
Becoming a part of Survey Junkie comes with completing an online profile and getting matched to questionnaires from businesses that want your honest opinions. You get to be an influencer in an online community and get paid up to $75 for a completed survey through PayPal or a gift card.
Cassandra from Charlotte, NC: "A lot of people are worried about getting scammed by survey websites, but Survey Junkie is actually legit. The surveys are actually pretty interesting sometimes because I already love to talk about which products I like the most! I can complete them whenever I want, and I always get so excited when I get a notification for a new survey I can take."
Watching Videos
If you like to watch videos online or learn about new things on YouTube, DailyMotion, or a similar website, then you'll love earning extra money with Swagbucks. This service allows you to view tailored custom video playlists that are organized by topics you are interested in, such as sports, technology, politics, food, or fashion.
This is a great way to discover cool topics that you're actually interested in, and if you're a multi-tasker, you can let these videos play in the background while you get other things done around the house.
Swagbucks is all about accumulating points to exchange for gift cards. Beyond watching videos, you can earn more points by doing other activities on the website as well. Shopping online gives you cashback points, and checking into the app while shopping in stores will also earn you points.
Taking surveys for points is also an option on Swagbucks. It's incredibly easy to integrate Swagbucks into your day to day life, and you can start earning money for doing things you already do.
Giuliana from San Jose, CA: "There is always a Swagbucks tab open on my computer because they are always giving me a way to earn points for things I already do every day, like shopping and watching funny videos online. I've already redeemed three gift cards with them, and I really trust them because they've been around for a long time."
Earning Money from Previous Purchases
This is an opportunity for the thrifty ones who would like to save time and effort when shopping. If you like saving money, you can use Paribus, which is a service that will actually pay you if you end up paying too much for an item online. It's a free service owned by Capital One to help you still get the best deals online without chasing after the lowest prices yourself.
Like a growing number of people in America, I personally love online shopping. I will spend hours online sifting through what I want and find the lowest price for it, but with Paribus, you can actually save yourself that time for doing more things that matter.
For instance, if you buy a new set of headphones, you can use Paribus to track your shopping list and buy at whatever price you want. If Paribus finds a lower price online, they'll pay you the difference for the headphones. It's every online shopper's dream come true.
Prince from Gainesville, FL: "I'm an avid video game junkie and technology enthusiast, so when I discovered Paribus, I immediately started using it for the new games, devices, and accessories I needed. I ended up earning over $50 back the first week I started using Paribus because it was so good at finding lower prices online."
Grocery Shopping
Similar to restaurant food delivery, grocery delivery is becoming a growing trend especially in large cities in the US. Large store chains have signed up to be grocery stores, such as Whole Foods, Safeway, CVS, and Costco, and more people are recognizing the convenience of getting groceries and home essentials delivered to their house.
Instacart is an online grocery delivery service that hires personal shoppers to select the right items from a user's grocery list and get them delivered within the time frame they ask for it. Many shoppers benefit from being able to plan their own schedules, and with just a few weeks of practice, they know about the newest products and memorize what's in every aisle.
Some people report that they can earn between $12 to $25 an hour most of the time they are working, and it's the perfect gig for people who actually like going to the grocery store and picking out their own food.
Lisa from San Francisco, CA: "I've been delivering groceries with Instacart for a year, and I can't imagine life without it. I used to be a stay-at-home mom, but even with my new job now, I always find time to make some extra grocery deliveries. I do the grocery shopping for my family anyways, and it may sound weird, but I actually like going to the store and shopping. It's never a chore for me, so I thought, well why not make some extra money out of it?"
Pet Sitting
For the animal lovers out there, there are many growing apps that allow you to make money pet sitting. Rover allows you to become a dog sitter or a dog walker after a quick sign-up and approval period, which really goes to show that the only thing better than a puppy paradise is getting paid for it.
People who treat Rover like a part-time job make $1000 on average each month in large cities where pet sitting is high in demand. After passing a background check, you can offer services beyond pet sitting such as pet walking and house sitting as well.
Over time, you'll work on your "pet sitter education" in the app, and you'll be able to increase your pet sitter legitimacy in your profile and earn even more money working with cute animals in your spare time.
Stefano from Seattle, WA: "I absolutely love working with animals, especially dogs. They're my favorite and they are so cute, so I started working with Rover. My apartment doesn't allow pets for the moment, so Rover letting me hang out with cool dogs and getting paid for it is the best deal of all time."
Renting a Room in your House
Long gone are the days when people thought it was weird to live out of another person's home as if it was a hotel room, but many vacationers and business professionals are opting for Airbnb over traditional hotels.
That's why joining Airbnb as a host makes so much sense if you own an extra room in the house or an empty apartment. Many Airbnb hosts are also offering curated experiences, personal tours, and unique recommendations to earn extra income as well.
Airbnb works best if you have any sort of empty living space that people would enjoy. I've seen entire homes and apartments, vacation beach houses, and even farmland or backyards built for camping listed on the website – all ranging from $15 to hundreds of dollars a night.
Signing up as a referred host can earn you around $2,000 a month on average, depending on where you reside, and each host account comes with $1,000,000 in free protection from property damage.
Airbnb only takes 3% per reservation, allowing you to get the most money of your money. You have to freedom to decide which dates are available to guests, how much they'll pay per night, and when you'll get paid.
Brady from New York, NY: "I love being an Airbnb host. I take the job of entertaining my guests seriously! I almost always have guests here when I'm in town for work because the area of New York I live in is really busy and popular. And because real estate is so high, I can charge them a lot too! I rent out my spare room and have so much fun telling stories to my guests or recommending my favorite tourist spots and restaurants."
Lowering your Cable Bill
A newer money saving program is Trim. This service analyzes your spending information and automatically finds ways to save you money.
For instance, it'll recommend that you cancel those hidden subscription costs that you don't notice you're still paying for or find you better car insurance. More impressively, Trim contacts service providers such as Comcast, Time Warner, and Charter to negotiate even lower costs for you.
Trim does all this without you having to lift a single finger. It's an automated service that you can sign up with for free, and you can achieve results in just minutes.
Earn Free Gift Cards from Regular Shopping
If you want to get cashback on the shopping that you already have to do, Shopkick is the right service that will help you earn gift cards to treat yourself.
Shopkick is one of the most established online point systems that reward you for shopping online and offline. You can earn points for checking into the app when you walk into a retailer and for scanning barcodes in-store. You can also shop offline and earn points by viewing products and making purchases.
These points add up fast, and you can exchange them for legitimate gift cards from your favorite stores that you already shop at.
Shopkick's partners include Starbucks, Sephora, Amazon, and more. If you already enjoy shopping, then using Shopkick will only make shopping more fun and engaging, not to mention you'll actually earn money for your time and your purchases.
Karlene from Princeton, NJ: "I feel so good from using Shopkick because I can rack up points really fast and redeem them for gift cards. For heaven's sake, I can earn free gift cards for even just walking into a store! Every online store I visit, Shopkick also automatically tracks my spending there too, so I find myself redeeming a lovely gift card once every few weeks."
Sell Extra Gift Cards
If gift cards aren't your thing or if you have too many unused gift cards lying around the house, you can consider selling them for extra money.
Raise offers a way for you to sell gift cards that you don't want anymore, and you can also buy or trade them at a discount. Raise allows you to sell gift cards from the widest variety of stores, and you're allowed to set whatever price you want to sell at.
GiftCardGranny also lets you sell any gift card you still have a balance on, and they have a Sell It Now feature that allows you to get paid in a few days without needing someone to actually purchase your card. They also have brick and mortar locations inside of local shops if you're looking for the most convenient way to sell your gift cards immediately.