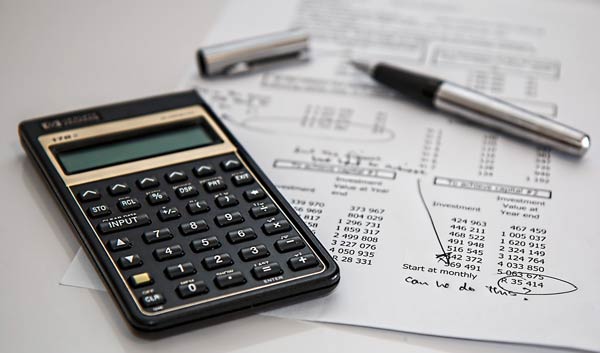 Analyst Notes CFA Exam Prep Review
Most students use the official CFA Institute curriculum as well as an additional source of preparation materials. You have a few options when it comes to selecting a test prep provider, and they are largely determined by your budget. How much would you like to spend on your level 1 prep? If $400 sounds like a lot, then many of the larger providers may be out of your reach, but there is a great option that I personally used and passed with, called AnalystNotes.
Analyst Notes doesn't work with Level III, but it may be a great option for level I and II. The two packages on offer are $69 and $99, which is a 10-fold price reduction relative to other providers' premium packages. You may think the quality is reduced 10-fold as well? Not at all. Actually, the company offers a few features that are uniquely suited for the test takers. I will talk about them in a moment.
See our guide to the best CFA Exam Prep Course Options here.
Analyst Notes Prep Course Options
First, regardless of your other options, I suggest you check out the trial version of the program. The company's approach to trial accounts is worth mentioning, since no other prep provider is as generous with their trials as Analyst Notes.
Your trial account does not expire until 30 days before the exam and offers access to the same question bank and notes as what paid subscribers use, with only a few sections locked on any given day. The sections available for review rotate from week to week, and you need to keep a flexible study strategy, but there is still plenty of questions to practice on.
The maximum number of questions for trial members is limited to 10, but you can run an unlimited number of quizzes. May I also suggest a hint: there is no limit on the number of trial accounts you may have, for those especially persistent students who want access to a currently locked section, for instance.
Using the Test Question Bank
Here is an example of a locked LOS (learning outcome statement) inside the Ethics section: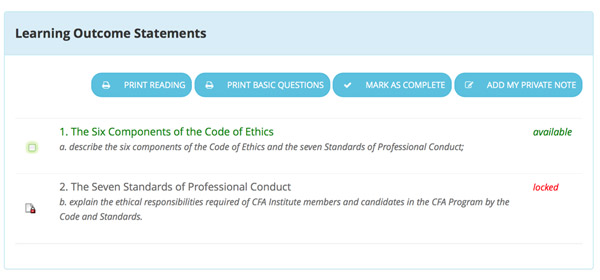 Analyst Notes questions seem to be on the harder side, which I think is a good thing. There are a few vocabulary issues here and there, like in the example below. Unsustainability is the correct word to use. I assume some of the material was written outside of the US. But the questions themselves are solid.

Additional Tips
A side note: as a paid user, you can mark questions as 'favorite', and the questions you answer incorrectly will be saved as 'failed' ones. You can then create your own quizzes (not limited to 10 questions) by selecting or excluding these specific kinds of questions.
Having compared Kaplan Schweser Question Bank with Analyst Notes, I would say Kaplan questions follow the official material more closely, but they are less challenging, whereas Analyst Notes offers interesting questions, at an overall harder level, but now and then the format is not consistent with the official sample questions. If time allows, you should solve as many questions as you can on analystnotes.com, and if you have a bigger budget, add Kaplan Question Bank to the mix.
Analyst Notes Features
Another unique feature which I found helpful on Analyst Notes was 'global ranking', which shows your progress (number of questions attempted and percentage correctly answered) relative to all other subscribers. If you have a competitive personality, you will check this metric often and will work harder to keep up with the rest of the students.
Progress tracker is another nice tool – it is a dynamic graphic on the website, showing your overall progress in reading the notes, and number of questions attempted, number of questions answered correctly, relative to total questions in that section.
Available Test Packages
Now that we are familiar with the specific features from the website, let's take a look at which features are included in the 2 packages that Analyst Notes offers:
QuestionBank Package
$69 cost.
Online access to the question bank.
Global ranking.
Progress tracker.
3 mock exams.
Mobile version of the website.
AnalystPro Package
$99 cost.
All of the features included in the QuestionBank Package
Allows you to print study notes
The Ebook
16 page formula sheet
5,200 practice questions
10 mock exams
For more information on the packages, click here.
Neither package offers live instruction or video tutorials and both are aimed at students who are self-starters and only need the bare bones instruction and lots of practice questions.
Whichever package you opt for, it can be a great addition to your study strategy. I used AnalystNotes.com as my only additional prep provider besides the official CFA curriculum and passed level II very comfortably. The best tip I could give you is to practice solving as many questions as you can and to solve every single end-of-chapter question in the official CFA curriculum, more than once if time allows.