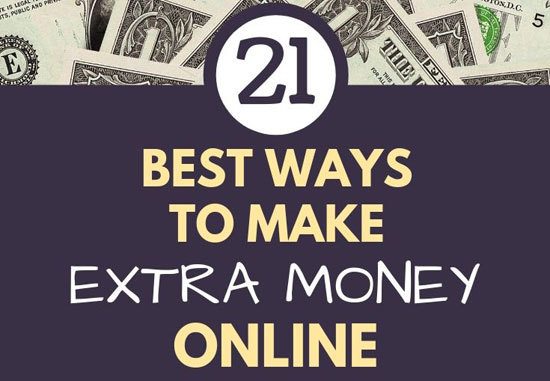 21 Best Ways to Make Money Online
Whether you're not making enough to pay your bills every month or you want more money for your social life or savings, extra money is always welcome. But when you're already working a full-time job, you want to find fun or easy ways to bring in those additional funds.
Are you saving for a big goal, like a two-week trip abroad? Or, perhaps you need to bring in extra money each month to cover the shortfall between your bills and paychecks. Either way, we've got you covered.
That's where this list comes in. None of the items we mention are super hard to do, but it might require you stepping outside of your comfort zone. We've found some easy ways to bring in more money so you can concentrate on living your life instead of worrying about your finances.
To find the best fit for you, play to your strengths. Are you a people person? Consider tutoring. You'll meet new people and make money.
Some of these ideas might turn into a profitable long-term side gig, while others are one-time things you can do to raise money quickly. Don't miss our other guides on Money Earning Apps and Earning Free Money on Paypal.
Let's look at some ideas that might pad your bank account and help you sleep better at night.
Watch Videos
Are you the type of person who loves to watch little video clips you find online? Do you find them entertaining while your friends roll their eyes at them? Believe it or not, you can make money watching videos at Swagbucks. You won't get rich, but if you're watching them already, you might as well cash in on your hobby.
You'll get a $10 bonus for signing up, and that process only takes about a minute. For watching videos, searching the web, answering surveys, and more, you'll get points you can redeem for gift cards or PayPal cash.
Tip: You're going to receive a lot of offers from Swagbucks about how you can earn points. When I signed up, I created a separate email account just for Swagbucks because I didn't want my primary email account spammed with offers. This way, I log in every day or two to my Swagbucks email and look over the offers and keep my other account for my most urgent business. It helps to streamline your accounts like this.
Clear out your Closet
Are you trying to get rid of some of the clutter in your life? Do you have items taking up closet or garage space you haven't used in years? Then it might be time to cash in on some of that clutter and turn it into cold, hard cash.
Decluttr is a good vehicle to use to sell your items because this site takes things that can traditionally be a bit harder to get rid of, like books, CDs, DVDs, and games. They also purchase cell phones and other types of tech. So far, the company has spent more than $300 million buying items from more than six million customers.
Tip: If you've been a hardcore Lego collector, you can also sell that to Decluttr. But if you have kits which still have all the pieces, you can fetch more money elsewhere selling the set as a whole than by the pound with Decluttr.
Earn Money with Your Car
Do you have an extra car at home you only occasionally use, or does it drive you crazy that your car sits unused because you take public transportation so much? You could cash in on that little-used car with Turo.
This website lets you rent out your car to others. How much you can make from those rentals depends on things like what type of car you have, it's year, and where you live. For instance, if you live near Chicago and you have a 2015 Camaro, the site says you can earn $351 a month if you book it for 6.5 days per month. That could be enough to make your monthly car payment.
You can visit the Turo website to plug in your own details and see what you could get for renting your car.
Drive People with your Car
With companies like Uber and Lyft, it's like you can run your own taxi service without committing to it full time. You can set your schedule to work around your full-time job. Or if you've been downsized and are currently looking for work, it's a great way to fill in the cracks until you find something.
You'll use your car to give people rides to wherever they need to go. If you live in a booming metropolis, you'll have the most opportunity, but there are some smaller cities where you can drive too. Uber, for instance, serves more than 700 cities.
Deliver Food in your Downtime
If you like the idea of delivering food to people wherever they are, DoorDash might be for you. It will never be boring – you might be asked to bring a meal to a park for a customer or even to the beach. Plus, you'll get to meet new people. This job could turn into a real adventure!
Right now, this opportunity is only available to people living in sizable cities. Founded in 2013, DoorDash has gained a lot of traction in its first few years, and new cities will likely continue to be added. So if your city isn't currently offered, keep an eye out – it could open up shortly. In 2018, DoorDash expanded into 60 additional cities in Florida.
Give your Opinion
Do you love sharing your opinion? That can be problematic sometimes in real life, but if you're looking to make some extra cash, being vocal about your opinion can be a real moneymaker. Companies are looking for feedback from people like you so they can work on improving their products and services.
Survey Junkie is one of the most popular sites for hooking up opinion-givers like you with the companies who need your service. It can be fun for you to contribute your feedback and help shape what companies offer in the future. Plus, it's easy to do. You'll build a profile and be matched up with pertinent surveys.
When you've racked up enough points, you can cash them in for a PayPal payment or e-gift cards.
Cut out your TV Costs
Tired of getting those monthly bills of more than $100 from DirecTV and other cable providers? I know I was. I like to unwind at night with an hour or two of television, but I resented how much I was paying each month. A few months ago, I realized if I could find a cheaper way to get my viewing fix, I could save an additional $1,200 a year.
So I signed up for Hulu's $5.99 monthly plan, and I've been happy ever since. I always have plenty to watch, and I've loved watching those savings come in. You can sign up for more expensive plans with Hulu, but I went with the basic plan. It does contain limited commercials in the programming, but I use those mini-breaks to grab a snack, check my text messages, or stretch my legs.
Make Use of your Skills
Do you have a hidden talent, like graphic design, digital marketing, or writing? If so, you might want to check out Fiverr. It gives you an arena in which you can cash in on your talents. But because the pay per task is low, you'll need to carefully consider how much time a task will take you to make sure it's worth it to you.
Tip: Keep in mind while calculating how long it will take you to do a task that Fiverr charges up to 20 percent. That will cut into your profit so you'll want to factor that into your calculations.
To land a lot of clients on Fiverr, you should find your strongest talent and stick to this niche. If you do it well, you'll build up your customer base and land a lot of repeat business.
Watch your Neighbors Kids
Care links caregivers with the families or individuals who need them, whether it's for child, senior, or even pet care. Would-be clients will post a job, and they can get responses from caregivers who live in or near their city. Clients will be able to look at your caregiver profile and contact the ones they are interested in hiring.
The good thing about this site is that they have a lot of new jobs posted daily. The downside is that you have to live in a metropolitan area to find jobs – only big cities like Chicago and Atlanta are currently listed on this site. But if you live in one of the metropolitan areas they service, it's worth your time to check it out if caregiving is something you're good at and interested in doing.
Earn Money Walking
Achievement is an app you load that pays you for working on your fitness. You'll go for walks and track your steps. While this is a legitimate way to earn spare cash, it isn't feasible as a full-time or even part-time income. It will give you pocket cash if you stay the course though.
You'll earn points for walking or doing other fitness-related tasks. You can earn $10 for every 10,000 points. The data the site collects is used for research, so you'll be doing yourself and others good with every step you take.
Become a Virtual Assistant
You can be a virtual assistant or offer face-to-face help and score some good-sized paydays with TaskRabbit. This site lets you cash in on many skills that come easy to some and are hard for others – like mounting and installation, general handyman work, furniture assembly, and moving and packing.
You'll get to set your rate on TaskRabbit, and you'll have complete control over your schedule. You can land big paychecks and have total freedom still.
Make Money as a Transcriber
Do you want to become a transcriptionist but aren't sure where to start? You might want to check out Transcribe Anywhere. They offer transcription training programs online that you can finish in two to four months, depending upon what your skill level is at the start of the program.
You'll have to invest money to complete the course before you can start earning. But there are jobs aplenty online for talented transcriptionists so finding work shouldn't be difficult once you've completed the course.
Play Extra Games
Are you a gamer who dreams of turning your favorite hobby into a moneymaker? It can happen with Inbox Dollar. You can get paid for taking surveys, watching videos, and yes, even playing online games.
You'll get a $5 bonus for the free sign-up which just takes a minute to set up. So you'll be making money before you've even done anything. After that, you'll earn cash for every game you play. You absolutely won't get rich, but if you're going to be playing games anyway, you might as well be getting paid for it, right?
Are you saving for a big goal, like a two-week trip abroad? Or, perhaps you need to bring in extra money each month to cover the shortfall between your bills and paychecks. Either way, we've got you covered.
We've found some easy ways to bring in more money so you can concentrate on living your life instead of worrying about your finances.
Lower your Interest Rates
If you're fresh out of college or inexperienced with the world of personal finance, you might be wondering how improving your credit score will earn you extra money. It's simple – the higher your credit score is, the better your interest rates will be. You'll save money on everything you get through credit cards, auto loans, student loan refinances, and mortgages.
Credit Sesame is a great tool for taking the guesswork out of improving your score – it just takes a minute to sign up, and it's free. You'll get your current credit score and receive tips as to how you can improve it. Those tips may include things like paying down some of your outstanding debt, paying your bills on time, and how to prioritize your debt.
Teach Others
There are numerous sites where you can sign up to be a tutor. Tutor the People is one of the top ones. It may be a good fit for those who have an impressive resume, interesting job, or attended a prestigious school.
If you're intimidated at the prospect of tutoring a whole class at a time, you can relax. Tutor the People offers private, individualized tutoring, which you can do either online or face-to-face if you live close enough to your pupil.
Cut Online Shopping Expenses
Doesn't it drive you crazy when you buy something at a store and then you find out a day or two later it went on sale and you could have saved money? With Paribus, you still can.
When you sign up for Paribus, you'll want to do it with the same email account you use when you shop online. The service will scan your inbox for any receipts you receive after you make an online purchase – if it is one of the stores Paribus monitors. They'll watch for any price changes and if they detect savings, they'll contact you and help you get your money back.
Shop for Groceries
Do you like grocery shopping? Some people hate it and would gladly pay others to do it for them. With Instacart, you'll get paid weekly to do other people's food shopping. You'll get to select which hours you'll work, or pick up extra hours if you have a big expense coming up.
With Instacart, you have two options – you can become a full-service shopper or an in-store shopper. As a full-service shopper, you'll do the shopping and deliver the items too. If you're an in-store shopper, you'll only do the shopping, no deliveries.
Watch your Favorite Pets
Do you love animals? Rover, an online sitting service for dogs and cats, is looking for people like you. You can make money by dog boarding, house sitting, dog walking, providing a doggy daycare situation, or by stopping by for playdates.
To work as a Rover sitter, you'll have to pass a basic background check and be approved by the website. Then you'll make a profile and include any personal information you're asked for. Again, this option is limited mainly to those living in big cities.
Make your House Earn its Keep
The beauty of renting out a room in your house with Airbnb is that you don't have to live in a big city to do it. Even someone who lives in a small rural town can do it – I know people who make several hundreds of dollars a month renting out a place in a small town of 2,000 people.
This is a good option for those who want a bigger house than they are comfortable paying for – they can rent a room occasionally to help with the mortgage payment if need be. It's best if you're a people person or at least not adverse to getting to know strangers because there will be interaction with people staying in your house.
Also, you should make sure you are charging enough per night to make up for the time you'll spend cleaning and any food you provide for your guests. But keep in mind, you'll have to charge less for renting a spare room for the night than you would for renting out a whole house.
Negotiate your Monthly Expenses
If you're not quite ready to ditch cable, but want to cut down on your monthly bill, sign up for Trim. To get started, you'll do the quick sign-up for free and then you'll choose your service provider. From there, Trim will get to work. It will look at your accounts to find subscriptions you can save money on.
If the service determines there are savings to be had, it will negotiate your bill. You won't have to do anything but enjoy your extra money. Trim makes money by keeping part of the savings it locks in for you. But you won't have to pay a dime until your bills are decreased.
Earn Extra Money During your Shopping Trips
Whether you only shop occasionally or it's your favorite hobby, Shopkick can help put money in your pocket. You'll be rewarded for shopping online and in-store by receiving reward points. When you have enough points stored up, you can cash them in for gift cards.