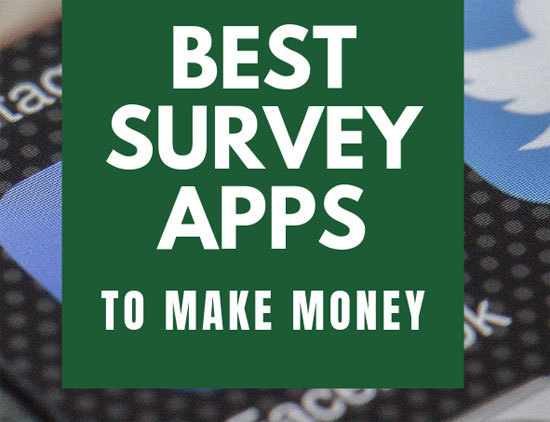 9 Highest Paying Survey Apps for Money
If you're not ready to take on an extra job, but you want to earn a modest amount of money each month to help whittle away your bills or have more of a social life, you might want to think about taking surveys.
You'll earn cash or get gift cards for your efforts. But it's so easy that anyone can do it, and there are plenty of opportunities out there for people willing to share their opinions.  Surveys are one of the easier money making apps available right now.
If you decide to pursue taking surveys, the best strategy is to sign up with more than one service. That way, you'll increase your odds of always having a survey to take in your downtime. You'll also quickly find out which site you prefer to maximize your time.
How to Find the Right Survey App for You
The best way to use survey apps is by creating a folder on your smartphone and storing different survey options in the same place.  The most popular survey apps can be downloaded in both the Apple and Android stores from your smartphone.
By using these surveys in combination with a smartphone, you can make your morning commute or evenings more efficient.  The phone based apps make it very easy to take a survey while watching TV or just trying to relax during your morning or evening commute.
Survey Junkie
Survey Junkie allows you to become an influencer. Your answers to your surveys will help companies refine their products and services so they can give customers more of what they want.
After you sign up, you'll want to spend a few minutes setting up your profile. While that may seem like wasted time you aren't getting paid for, it will help you earn more money in the long run.
By setting up your profile, Survey Junkie will be able to forward survey offers to you that are best suited for you.
That will cut down on how many times you may begin answering a survey only to find out midway through that you are being bumped from it because it doesn't apply to you.
Once you've stored up enough points for your efforts, you can exchange them for cash through PayPal or e-gift cards.
Survey Junkie is one of the Best Ways to Make Money Online.
Mobile Xpressions
If you are interested in a more passive option to make extra money, Mobile Xpressions is a great option.
Instead of completing surveys, you just download the Mobile Xpressions app to your phone and that's it.  The app collects information in the background without requiring you to do anything else.
You will be paid in the form of credits which can be redeemed for giftcards to a variety of retailers including Amazon.
Apple users can click here to find out more about the Mobile Xpressions app.
Android users can click here for Mobile Xpressions app.
Inbox Dollars
When you use Inbox Dollars, you'll be given $5 solely for signing up. So before you've done one ounce of work, you'll already be earning money.
After you complete your sign-up, you'll be able to do fun, easy things like taking surveys, reading emails, watching videos, or participating in online games to earn money.
Inbox Dollars is one of the better-known survey sites, having paid out more than $56 million in rewards so far.
Swagbucks
Swagbucks is one of my favorite survey sites, and the primary reason for that is how versatile its money-making tasks are.
You should be able to find several ways to make easy money with this site. You'll earn in the first couple of minutes, just by the $5 sign-up bonus they offer.
If you like taking surveys, this site offers plenty of them. But you can also shop online, watch videos, and play games. Also, if you love to search for things online as I do, you should like that you'll be rewarded for simply using your search engine.
Another thing I like about this site is that there is no trickery. With some other sites, you have no idea how long of a survey you're expected to complete.
Swagbucks takes the guesswork out of it, by telling you in advance how long that survey should take you to complete. That helps you because you can determine if the amount that's being offered is worth it.
I'm not the only one who uses Swagbucks – so far, they've paid more than $360 million to their members.
See our full Swagbucks Review for more information.
Pinecone Research
Pinecone doesn't have the name recognition of Swagbucks or Survey Junkie, but it's still a good alternative when looking for survey sites.
Like the other sites, you'll rack up points with this one that you can use to cash in for prepaid virtual Visa cards or get a check mailed to you.
Most of the surveys on this site will take about 15 minutes or so to finish.
Good to Know: After you've stored up 300 points, they will automatically be withdrawn, and a check will be sent to the home address you used when you signed up.
That helps the site verify your account information and profile. After that, you can save up your points to reach large sums or opt for merchandise redemption or gift cards.
National Consumer Panel
With this option, you can take surveys and provide information about your shopping trips. When you are accepted as a panel member, you'll either install the NCPMobile app or get a handheld scanner sent to you.
You'll use the app or scanner after you return from shopping trips to scan the barcodes off of the items you purchased.
You'll also give other information National Consumer Panel can use, like the store name or the prices of the things you bought.  You might also qualify for surveys or special studies.
Harris Poll
With Harris Poll, you can fill out surveys and do other tasks to rack up the points to earn gift cards. What sets this site apart from the competitors is that you can use your points for sweepstakes entries instead of cashing them out for gift cards if you want.
If you're the lucky winner of one of the sweepstakes, you could win thousands of dollars. If you're willing to take some of your earnings to bet on your luck, you might like this website.
MyPoints
If you visit the MyPoints website, you'll notice that you'll get a $10 welcome bonus for signing up. You should be aware, though, that you'll only get that bonus if you spend at least $20 on a merchant going through the MyPoints website in the first month.
If you're going to sign up for this, you should wait until there is something you want to buy anyway, so you aren't spending $20 to get a $10 reward.
Once you are a member, you can get points for shopping through the MyPoints website. If you want to take surveys, you'll need to fill out a survey profile.
You might find that a survey which takes you an hour to fill out only nets you a few dollars. But if you're taking the train on your morning commute to work and have time to kill, this is another good site to check out.
You won't be making a killing, but earning something during your commuting hours is better than staring out the window.
Shopkick
Shopkick is another site that gives you multiple ways to earn rewards. You can reap rewards for shopping online or in-store, or you can take surveys, watch videos, or view products online.
Some people may find that with dedication, they can earn a gift card within a week with the points they store up.
But one thing to keep in mind is that going in-store to earn points is going to cost you gas money. If you're headed that way anyway, go for it.
But I wouldn't make a special trip to that store just to earn Shopkick points – otherwise, the gas money may cost you more than you earn.