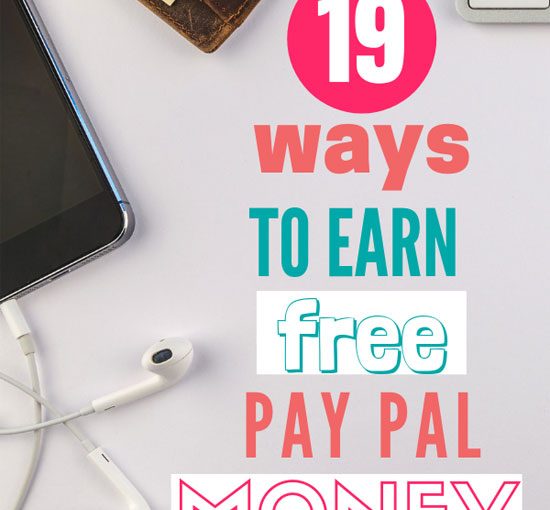 19 Ways to Earn Extra Paypal Money
All you need to make money online using PayPal is an email address.
Once you have an account, various websites offer small-scale services that let you earn money here and there with your spare time on the internet.  Most are low commitment, and they all deliver extra cash to you through PayPal.
If you decide to try out this method of making money, we recommend you sign up for a couple different sites both to see what works best for you, but also to get access to a wider variety of deals – that way your time is spent most efficiently.
When you find a few websites or apps that work best for you, then you can always focus your time on those options.
This article includes a list of the 19 best ways to earn free money on PayPal.
1. Join Swagbucks to Get Credit for Every-day Web Activity
Earn money just by participating in normal activity online. With Swagbucks you can earn gift cards by doing things like shopping, watching videos, or answering surveys and questionnaires.
The system works by awarding you with points for everything you do. You receive an extra 1000 points (equivalent to $10) after you complete your first purchase with one of their retailers.
Upon receiving your points, you can choose to cash them in as cash back via PayPal, or as an e-gift card to various online retailers.
Though a variety of activities let you earn credits, the way to earn the most credits is through their retailing options. As such, this is really most similar to a more applicable form of couponing.
If you shop online frequently, then Swagbucks is an easy opportunity to earn some of that money back.
2. Sign up to Complete Various Small Projects Online
If you have some marketable skill and are between jobs or have time on your hands, then Fiverr lets you turn that into an income by letting you sign up for various projects such as graphic design, writing, video editing, or whatever else people need.
The hard part about a site like this is that you need to create a bit of a brand for yourself to appeal to buyers that might want your services.
If nobody has a need for whatever you are offering, then you just can't make any money.  Fiverr gives you the opportunity to make a small income if you play it right.
You keep 80% of everything you earn through each transaction on Fiverr.  This means it isn't quite as lucrative as working a normal job would be, but still pretty good since it can be a super temporary gig.
This is especially good for people between jobs or between major contractors.
3. Get Money that Companies Already Owe You
Another example of a site that kind of works on its own, Paribus is an app that makes sure you get the money you deserve after late deliveries or price drops on items you have purchased. It runs through your email and looks at receipts to see when something is owed you and then credits it to you.
To sign up, you must register an email address and allow Paribus access to it.  This may feel a little bit sketchy, but they only look at web-receipts and purchases.
Additionally, Paribus is run by CapitalOne, which makes them seem a little more trustworthy.  Nevertheless, if you are worried you can always create a dedicated email address to run your purchases and Paribus through.
The nice thing about Paribus is that it really just gets you what you deserve from companies that guaranteed you a price or a delivery time and then failed to meet their promise.
You don't need to overly change you habits; just make sure your receipts are being sent to the same email you connected with Paribus.
4. Get Deals Ahead of Time
Ibotta functions similar to many of the other couponing and cash back websites mentioned in this article.  Once you sign up you receive lists of offers and can then use those while shopping to get cash back.
To be effective, you really need to go through their offers before shopping, but their offers are legit. Once you have an offer, you can then go to an online site or store to redeem it.
Unlike other sites, Ibotta also focuses on coupons you can use in-store by accessing them on your phone.
Though there are many similar services, they all will likely have different deals and opportunities, so if you are a regular shopper it might not hurt to have multiple services.
5. Take Surveys to Get Cash Back
Complete short surveys and question sets online to earn money through Survey Junkie. This service offers small amounts of credits which can be cashed in via PayPal to complete a variety of surveys.
This is a low commitment, low stress option in that it requires very little of you other than your time. You spend some time and you get a little bit of money for small purchases. They will send you surveys that they want completed.
Note that this is not an extremely lucrative option, but it is reliable. They even state on their website that you will not get rich through their service, but it still gets you a few extra bucks.
6.Cut Costs with Better Coupons and Cashback
If you are trying to cut back on costs with shopping, Ebates Rakuten is a very reliable and well known sites that specializes in couponing, cash back, and other discounts.
Ebates partners with online retailers so that you receive up to 40% cashback (redeemable on PayPal) when buying things online.
Like other couponers, this is only really efficient if you are shopping online frequently and would be using these services anyways. Everyone has to buy something occasionally, though, and this site might save you money when you do, so it's worth checking out.
7. Complete Various Tasks Online
Inbox Dollars gives you a wide variety of online activities to choose from that let you earn cash.
These options include Completing online marketing research surveys, reading and replying to emails, watching videos and watching TV, listening to the radio, shopping online, using search engines, referring friends, and trying brand name products and services.
You get a $5 sign-up bonus, but from there how much money you make depends on how you use the site. Most users report reliability in the consistency at which they make money, but also complain that Inbox Dollars has a tendency to send too many notifications, requests, and other emails.
Inbox Dollars is an easy way to Get Paid to Watch Videos Online.
8. Sell or Rent Your Old Appliances
If you have items and gadgets lying around that you don't use very often, then a service like Fat Llama might help you turn those items into a profit.  This site lets you buy, sell, and rent used items.  It creates the platform where people can come together in this manner.
This option is a little more restrictive for entry because you need to have something to rent or sell before you can start making money off of it.
If you do have something to offer then this site is more accessible than many other online retailing platforms and is fairly reliable.
You won't receive quite as much customer support as you might on one of the larger retailing sites, but for its small scale this site has quite a bit of opportunity to offer.
9. Earn Cashback for Using Your Normal Credit Card
If you want an option that really lets you set it up and then forget about it, Dosh may be perfect for you.  This app has you provide credit card information and then you can shop at participating retailers using that card and automatically receive cash back.
The beauty of this app is that it happens automatically.  You don't need to fill anything out or jump through hoops to get the cash back – it just happens.  So long as you use one card consistently you can find that you get frequent cash back.
Like many other options, this isn't gonna be a get quick rich scheme.  Many places don't give cash back through this service, and it's hard to really game the system and shop at only these retailers.
Dosh represents a very low effort option for that little edge to pad your wallet.
10. Connect with other Online Users to Complete Tasks
If you are between jobs or have a bit more free-time, Taskrabbit lets you complete small 'tasks' to earn some money here and there. This service has you make an account, after which you can see tasks available in your area that people are willing to pay you to do.
Tasks include delivery, maintenance, cleaning, or any other small project that a person needs help with.  The app just connects you with people in need of a so-called "tasker."
Due to its more involved nature, this app also requires a little bit more effort when you first start.  After making an account you also must attend an in-person orientation that will help explain how the app works, as well as what your responsibilities will be.
Taskrabbit is a great option for people that have more time to spare and need a bit more money than some of the other services mentioned here provide.
11. Sell your Old Technology
Decluttr is a super easy to use site that buys and sells various tech, gadgets, and other household items.
Decluttr offers fair prices for you to send in whatever you are trying to get rid of and in exchange will deposit the funds directly into your bank account or send them to you via PayPal.
Sites like this are great for people that have items to sell but don't want to commit to the larger, more complicated processes of larger retailers.
Decluttr buys items directly from you and makes it easy to receive your funds quickly and are quite reliable of a service.  It represents a great way to Sell Used Electronics.
People with enough things to sell to make a profit but not enough to warrant a more sizable service such as Amazon will benefit from using a site like Decluttr.
12. Trade in your Old Phones
Gazelle is a website that also specializes in technology and electronics resales, but they specialize in cell-phones and other personal electronics.  You can send in your old used devices for cash that they will send you on PayPal.
If you have a highly-functioning device that you just upgraded, Gazelle is an easy way to earn some extra money from an old phone.
The process is very easy.  After accepting a price, Gazelle provides a pre-paid shipping label for you to print.  All you need to do is follow the directions and drop the package off.
Gazelle will send you money as soon as they receive the shipment and confirm the quality.
13. Make Money by Window Shopping
Similar to the cash back services, Shopkick lets you earn money without even having to make any purchases. Once you download and register with the app, Shopkick rewards you for completing tasks like entering a store, scanning an item, or sometimes just walking by the store.
This app requires you to move around a bit to get your rewards – you need to actually visit various stores, but if you were going to visit anyways then it doesn't hurt to just have the app open when you go.
You earn the most points on the app when you buy one of the featured items from a participating score, but you can still earn a fair bit just by visiting the stores themselves.  If you're a frequent shopper then this can very much be worth it for you.
You will only make a dollar or two each shopping run at the most, but that can build up over time if you do it regularly.
14. Trade or Sell Unused Gift Cards
Raise is a website that buys and sells various gift cards and also offers people cash back in return for using their services. They let you send in your gift cards to receive points on their website that you can convert into a new gift card or can offload into PayPal.
The nice thing about this service is that it lets you get rid of useless gift cards to stores you never visit and turn them effectively into cash that can be used anywhere.  Additionally, buying through them can net you discounts at various retailers and additional Cash back value.
This service is once again a good option for turning things that are just lying around your home into something that can be useful to you.
15. Buy Gift Cards at a Discount and Earn Cashback
Giftcard Granny is a service that lets you buy gift cards at a discount or to receive cash back on your gift card purchase. You simply make an account on their website and then buy whichever gift cards you want.  You can offload your cash back on the site into PayPal.
If you are buying or using gift cards anyways, Giftcard Granny makes it easy to buy them a little cheaper, especially if you need them in bulk.  They also offer additionally special deals on some companies and rewards for people that use their service frequently.
This is another one of those sites where it's worth it if you are buying from any of their retailers anyways. If you needed that gift card either way, might as well get a few percent back in cash.
16. Take Extra Surveys
Yet another option to get paid for completing surveys, PrizeRebel prides itself in its simple interface and sign-up process – you can even sign up using Facebook.  After that, you just complete surveys and receive credit.  The more you complete, the more money you make.
Prize Rebel has a really good variety of options, which lets you pick surveys that may be of greater interest to you or that give you better deals that you would be interested in.
Additionally, Prize Rebel offers various deals and offers that you can choose from if you like.
Many users like Prize Rebel since it offers better options, an easier to use service, and is just more reliable than some of the other offers.  People find that they can more consistently earn money through this service.
17. Write, Create, or Manage Web Content
If you are an aspiring writer, have technical knowledge of an industry, or even just have time to spare, Upwork lets you work as a freelance writer, coder, marketer, or numerous other roles to fulfill various contracts in different fields.
You get to choose which contracts you take and can make bids for various projects.
Upwork is a website that connects freelancers with companies and individuals that need work done. This is great if you just have some time between other jobs or also if you want to try to make it into a part or full-time job.
One difficulty people may face with Upwork is that it is a competitive market.  You have to bid or apply against other potential workers, which means contracts won't always be guaranteed.
If you are skilled in an in-demand profession, then Upwork may be one of the Best Ways to Make Extra Money Online.
18. Selectively Chosen for Feedback
Pinecone research is another site that lets you complete surveys and receive cash back in the form of PayPal.  Once you sign up, you just pick the surveys that appeal to you.
There are many different websites that offer rewards for surveys.  What sets Pinecone Research apart is that it is not a completely open website.  They check each person that applies to be a part of the team, only selecting some people.
However, for those selected, each survey on Pinecone Research generally pays more than other companies. As such, you make a little bit more for how much time you spend on this website.
The ceiling for what you can make is still pretty similar, though, since they don't send out as many surveys as some of the other websites.
19. Take Pictures of Receipts to Get Cash Back
Receipt hog is an information gathering app that pays you in return for information on consumer spending habits. It works through an app on your phone through which you can scan your everyday receipts to receive cash that you can redeem through PayPal.
This app is really convenient because it has no requirement for what store or how much you bought.  Instead you can scan any receipt to receive the benefits.  This makes it much more flexible than many other options.
The downside to this app is that despite how easy it is to scan receipts, the cash flow itself is often not that reliable.  A lot of the earnings you can make is on a lottery basis, and certain types of receipts give you better odds.
Nevertheless, long-term users are offered additional ways to earn money such as surveys or even just free entry into some of their raffles.
Overall, Receipt Hog is good in that it will not force you to shop or spend time in ways you usually wouldn't, but it is not the most consistent income.