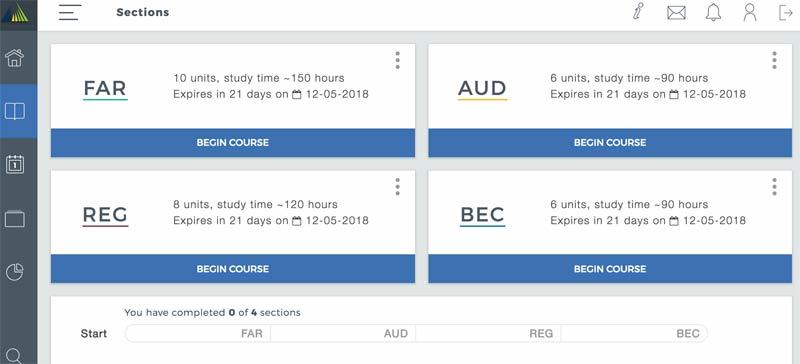 Becker CPA Exam Online Course Review
Becker Professional Education offers some of the most well known and high quality prep course products on the market. Becker has been in the prep course business since 1959 and over the years has developed relationships with many universities and public accounting firms to expose students to the company's CPA prep courses.
We take an in depth look at Becker's full CPA prep course product line and include our first hand experience using the online software.
Why Choose Becker for your CPA Review Course?
Becker's well earned reputation for high quality and comprehensive CPA study materials comes at a premium price point in the market. Recent graduates that are lucky enough to work at a public accounting firm that has a partnership with Becker or will reimburse your prep course materials frequently use Becker as their primary review course. The only question for these CPA candidates is which course options you should choose?
Other people choose Becker because of the company's extensive experience preparing study materials because they know they will receive a comprehensive and vigorous study program that will prepare them to successfully pass all 4 sections of the CPA exam.
Primary Course Options
Becker offers 3 primary comprehensive course options and 5 supplemental study products. Keep in mind that because of Becker's tightly integrated platform, they require students to have previously purchased one of the primary courses in order to access the supplemental CPA study products.
Becker Bundle
The Becker Bundle is the company's flagship CPA review course bundle. Students choosing the Becker Bundle typically prefer studying under a more structured program that includes video lectures, textbooks, practice questions, and extra study tools like flashcards and a comprehensive final review prior to exam day.
By choosing the Becker Bundle, students benefit with a significant discount over the total price of each of the products if you purchased them separately. The Becker Bundle includes the following products:
Becker's core 4 part CPA review product which includes all 4 sections of the exam with textbooks ($3,393 value).
Digital flashcards ($99 value).
Online Final Review for all 4 sections ($495 value).
Accounting for Learning Interactive Game.
The Becker Promise.
If you were to purchase each of these products individually, the retail cost would be $3,987. By purchasing these products as a bundle, you receive $500 of instant savings which reduces the Becker Bundle price to $3,487.
For more details about the Becker Bundle and a special discount of up to $1,000, Click here.
Becker 4 Course Review Product
Students that are comfortable with a self study format and don't need additional supplemental products like flashcards or a final test review prefer the standard 4 course product bundle.
The 4 course product bundle includes access to the core study material for all 4 sections of the CPA exam. By purchasing all 4 sections at one time, students receive 4 courses for the price of 3 (total savings of $1,131). If you were to purchase each course by itself, as needed, it would cost $4,524. The 4 course bundle price is only $3,393.
The 4 course bundle includes the following:
Access to textbooks and ebooks for all 4 sections of the exam.
More than 6,200 multiple choice practice questions.
300 task based simulations.
Proprietary adaptive learning platform.
2 full mock exams for each of the 4 exam sections.
Interactive study planner.
Over 100 hours of lectures from industry professionals.
Access the study materials from your desktop, tablet, or mobile device.
Customized Becker app for Android or Apple devices.
Accounting for Empires Game.
Becker Promise.
For more information about the Becker 4 course bundle and a special 20% discount, Click here.
Becker CPA Financing
Students interested in purchasing either the Becker Bundle or the 4 part course option, have the ability to finance their purchase with a 0% APR financing over 18 months. The special financing allows students to pay for their review course over 18 months without incurring any interest costs.
Keep in mind you do have to pay a one-time $125 processing fee, but all students are pre-approved with Becker for the 18 month payment plan.
Becker also has a few extra discounts for the following students purchasing the 4 course bundle:
Returning Becker Students – 50% discount.
Federal government workers or US military – $1,463 discount.
State and local government workers – $600 discount.
Current or recent graduates from certain universities – $550 discount.
For more information about the Becker discounts, click here.
Becker Individual Review Courses
We also like the ability for students to purchase single section study material for the CPA exam. This would appeal to students that prefer to purchase one section at a time to find out if Becker is a good fit for their study style. Purchasing a single section is also much cheaper than purchasing a more expensive bundle that covers all 4 sections of the exam.
The individual review courses include the following features:
Available for any individual exam section (AUD, BEC, FAR, REG).
Each individual review course includes extensive practice questions, lectures, and textbooks.
Adaptive learning platform.
2 full sized mock exams.
Access on any device.
Access to the study material from the Becker app.
Purchase any of the 4 sections for $1,131.
Notable Course Features
Now we're going to dig into the features and options of the primary review courses to give you a better sense for what to expect and how Becker differentiates itself from competitors.
Multiple Study Formats
One of the unique options within Becker's review courses is the ability to choose your study preference. For example, if you start studying for BEC, when you select that course, either by itself or as part of a larger bundle, you have the option of selecting your preferred learning method.
Students have the choice of selecting: self-study, live online, or live. Each option includes the same core study material. The difference relates to how you consume the lecture material of the course.
Self Study Format
The self study option includes all lectures in pre-recorded format. The benefits of this format are the ability to watch the lectures based around your schedule and view them from any location you prefer.
Live Online format
The live online option involves viewing a Becker instructor led lecture in real time as it happens. You still have the benefit of viewing the lectures from any location you prefer and you get the opportunity to ask questions and participate with other students during the live lecture.
Live
The final option is the ability to directly participate in live Becker lectures in person with other students. This is a great option if you live nearby a large city and prefer a traditional classroom environment. Becker's live classrooms are available at 100 locations globally.
The total available live course lectures hours by course is highlighted below:
AUD – 18 hours of live instruction.
BEC – 18 hours of live instruction.
FAR – 30 hours of live instruction.
REG – 24 hours of live instruction.
The live classroom lectures are optional and get spread out over multiple days. If you happen to live near one of the live classroom locations, its a nice bonus to have the option to attend a lecture in person.
Adaptive Learning Platform
Becker uses proprietary software, Adapt2U, which is designed to maximize your study time. When students start studying for a new section of the CPA exam, the first take an initial assessment.
This initial assessment is designed to evaluate your strengths and weaknesses and create a customized study program to most efficiently improve your performance.
The Becker Promise
Becker stands by its CPA review courses with the Becker Promise. If you use the Becker review courses for all 4 sections of the CPA exam and don't pass, you will be able to repeat the course again at no additional cost.
Graduate Credits with a Becker Review Course
Through a partnership with DeVry University, Becker offers the ability to earn graduate credit while preparing for the CPA exam. The potential benefits of enrolling in such a course include:
Earn 9 graduate level credits towards an MBA while studying for the CPA exam.
The graduate credits may help you qualify towards your state's CPA licensing requirements.
Taking graduate level classes may allow you to partially fund your CPA exam prep with your employer's graduate school reimbursement programs.
Before taking any graduate level classes, its very important that you confirm the graduate credits will qualify under your state's CPA licensing requirements.
Supplemental Course Options
As you progress your study plan, many students discover they may need additional resources to help boost some of their weaker areas. Becker offers a few extra supplemental products to address some common challenges students encounter.
Becker Final Review
Becker's final review product is intended to enhance the most important subject areas during that final month before you take the exam. One of the issues that comes up for some students is they begin to recognize some of the practice questions because they have taken so many questions over the course of their studying.
The Final Review product is designed to avoid those issues by presenting a condensed study course with unique lectures and practice questions that are not part of the core study materials.
The Final Review product includes:
Over 40 hours of new video content.
An additional 800 multiple choice questions.
100 new task based simulation questions.
Available for $165 per section or purchase all 4 sections for $495 ($165 discount).
Included as part of the Becker Bundle package.
Becker FastPass Course
For students that don't necessarily need comprehensive and in depth video lectures, but still prefer to utilize some video lectures, the FastPass course might be a good option for you.
Becker's FastPass is designed to cover the necessary study material in a period of weeks instead of months. Students with an approaching test deadline are good candidates for this option. But keep in mind that this is an intensive course that still covers the same material but at a much faster pace.
Becker Flashcards
Many students benefit significantly from regularly using flashcards to memorize important ratios and other accounting concepts. Some students prefer to make their own flashcards because its helpful to better retain the material in your mind if you write it out on paper yourself.
Other students prefer the convenience of pre-made flashcards to save time. Becker offers two options, printed flashcards or digital flashcards that can be used on your phone, tablet, or PC.
Becker's flashcards include the following:
Both formats include 1,300 flashcards.
Printed flashcards available for $179 (available to anyone).
Digital flashcards available for $99 (only available to Becker students).
Digital flashcards are included with the Becker Bundle package.
Becker Supplemental Questions
Many students find that utilizing a solid practice question test bank as frequently as possible is the most valuable learning tool in their study program. If you frequently use your test bank, there is a risk that you will start seeing the same questions.
Because you've already seen the questions, your mind already recognizes the answer and brain doesn't benefit from retaining new information. Becker offers students the ability to access extra practice questions on any of the individual sections.
Extra practice question options include:
250 AUD practice questions for $150.
199 BEC practice questions for $125.
467 FAR practice questions for $199.
263 REG practice questions for $175.
The purchase of additional practice questions requires the purchase of a core Becker CPA review course.
My Experience Using Becker
The Becker online platform is clean and easy to navigate. At the top right side of the screen there is an introductory video explaining the layout of the Becker platform and how to most efficiently use it.
You'll notice similar video introductions at the beginning of each section of the exam. We really like how the instructors actually walk you through what to expect in terms of the test format, number of questions, breaks, and tips for attacking the questions.
On the bottom of the homepage, you have the ability to create your custom study plan on the right side. On the left side of the screen you have the ability to use the Becker platform in explore mode. The explore mode allows you to navigate around the Becker study material without with directly impacting your overall score in specific sections.
This is important because it prevents you from accidentally altering the adaptive learning algorithm.
Individual Course Layouts
Each individual course is broken down into multiple content sections. For instance, the BEC section, includes 6 main topics. Within each main topic, there are multiple content units.
The first main topic within BEC is Financial Management. Financial Management is broken down into 9 content units with a separate simulation module and a final progress test.
Content Unit Options
When you click in one of the 9 content units, you have the option of watching the lecture based material for that section, watching a skills assessment video, or practicing multiple choice questions.
Each option includes an estimate of the amount of time required to complete. We like the skills based video format because they include instructors walking you through specific problems to arrive at the correct solutions.
Multiple Choice Questions
The multiple choice practice questions are organized by section so its very easy to keep track of your weaknesses and focus on practice questions related to those subject areas. Each practice question also includes a detailed explanation. We really like the extra detail that explains why the incorrect answers should not have been selected.
The analytics provides easy tracking of your individual performance within each content unit. After you complete a few hours of practice questions, you'll have a very good sense how your performance is trending within various subject areas.
Becker Promise Status Updates
Another unique element is that Becker's online platform specifically tracks your progress in terms of eligibility for the Becker Promise. There is a pie chart link at the bottom left main menu bar that will take you directly to the Becker Promise status screen. It's really nice to know exactly where you stand in terms of eligibility. Hopefully you never have to use the Becker Promise.
Pros
High quality content with access to both ebooks and textbooks.
Engaging lectures which are evenly broken out by various content clusters to avoid fatigue.
Easy online navigation with detailed tutorials that explain the test format as well as well as how to get the most benefit from the Becker material.
Ability to access the material from anywhere including with a Becker app.
Easy to use and detailed analytics to track your progress within very tightly defined content areas.
Content pre-assessments can be taken in small chunks at the beginning of each content sections. This allows you to complete your pre-assessment in multiple sessions rather than one long session.
Ability to attend live classes.
Cons
The main drawback of the Becker CPA review course is the higher price point compared to some other options. Make sure to check with your firm to see if you qualify for any employer sponsored reimbursements. Becker also has a number of partnerships with government agencies that will provide extra discounts. Finally Becker, does offer the option of paying for your course over 18 months with no interest costs.
Final Thoughts
Becker is the market leader for a reason. They have a long history of providing students with high quality materials to pass the CPA exam. Even though Becker's materials come at a premium price point, there are a number of discounts that you may be able to utilize to help reduce the cost as well as a generous 18 month payment plan with a 0% APR.
The best way to decide if Becker is right for you is to give their platform a try.