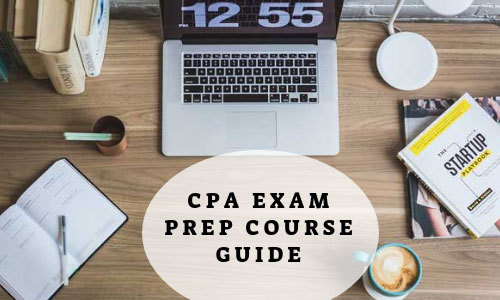 Best CPA Exam Prep Course Guide for 2018
Studying for the CPA exam is a significant decision. Between keeping a full time day job and studying for the test, it really requires dedication and time. One of the most efficient ways to prepare for the four exams is to utilize a CPA prep course that offers a high quality study program. When I studied for the exam, I followed a self study program. I found that the single most effective method was to regularly practice test questions from a software program that offered adaptive question algorithms.
By regularly using practice questions and paying attention to the results, it was much easier to identify my weaknesses. Once I identified areas of improvement, I use the the video lessons and study notes to improve. In between I would regularly use the practice questions in those topic areas to make sure I retained the necessary information.
Additionally, by using practice questions, it was also far easier to identify sections that I didn't need to spend as much time studying. With so many available CPA prep course options, it can be overwhelming to identify the right program for you. I created a detailed chart highlighting the major differences among the best prep course providers so you can make a more informed decision.
We will continue to update the page over time with more CPA prep course providers.
Best CPA Study Materials
| | | | | | |
| --- | --- | --- | --- | --- | --- |
| | | | | | |
| | | | 1 primary / multiple supplements | | 2 primary / multiple supplements |
| | | | | | |
| | | | | | 2 per exam section (8 total) |
| | | | | | |
| | | | 18 months; optional 24 month extension | | |
| | | | | | |
| | | | | | |
| | | | | | |
| Access via Mobile & Tablet | | | | | |
| | | | | | |
| | | | | | |
| | | | | | |
| | | | | | |
Universal
Universal doesn't directly compete against the other providers included in our chart. Universal is unique in that it is offering dedicated test bank product at a very competitive price point. One of the best ways to retain information on the CPA exam is to regularly practice test questions from as many different sources as possible.
Since most of the larger CPA prep course providers bundle their test bank product with larger packages, it can be cost prohibitive to purchase a supplemental test bank. Universal's new test bank product is designed for people that might benefit from a supplemental test bank product, but haven't found a competitively priced option. You can purchase individual sections for $99 or you can purchase a database that covers all 4 sections for just $299.
For a full review of Universal's new test bank product, click here.
Comprehensive Test Bank
Includes all 4 sections
$299
Covers all 4 sections
Online based
Over 4,200 questions
Test bank practice question and full exam simulator access
​​Unlimited Access
Individual Courses
Choose any individual course
$99
Online Based
Individual section questions range from 1,050 to 1,200 questions
​​Test bank practice question and full exam simulator access

​​Unlimited Access

Roger
The Roger CPA review program was founded on the basis of making studying for the CPA exam more effective by creating a more engaging and fun learning environment. This approach to studying for the CPA exam ultimately became the Roger Method. Roger's CPA courses are designed to help students make connections within the curriculum, retain information, and apply that knowledge in the real world.
Roger offers three primary CPA review courses: select, premier, and elite. Students also have the ability to purchase a range of supplemental course options which include: a cram course, multiple choice question app, digital & print flash cards, and audio lectures. The three primary course options all include an optional monthly payment plan.
$1,699
Electronic & Physical textbooks
Proprietary Smartpath for personalized guidance
Over 100 hours of lecture videos
Read only access to help center
6,200 multiple choice & task based simulation questions
Unlimited full length practice exams
18 month access
$2,299
Includes all Select course features
Offline access to all study materials
Ability to read and post questions in the help center
Includes CPA flashcards
24 month access
$2,999
Includes all Premier Course features
Lectures available in audio format
Cram course access
Additional customer support available via email, phone, and chat
Surgent
Surgent's CPA review program is focused around advanced adaptive learning technology combined with leading instructors focused on only the most relevant topics covered on the exam. Surgent backs up its curriculum with a Pass Guarantee. If you use the Surgent program and fail the CPA exam, Surgent will refund your tuition to the course or continue to provide access to the study program until you pass. Another notable element of the Surgent program is free access to coaches.
Surgent offers three main courses that cover each part of the CPA exam. You also have the option of purchasing single courses for each of the 4 CPA exam sections separately. Click here to see our full review of Surgent's CPA prep course.
Essential
Basic Study Plan
$1,799
Full Access to online curriculum until you pass
Over 6,000 multiple choice questions and 400 task based simulations
Over 350 video lectures with study notes
Detailed analytics and personalized study plan
E-books for all 4 exam sections
Flashcard based app
Online, phone, and email support
Premier
Comprehensive Study Plan
$2,299
All features included in the Essential plan
Printed textbooks for each of the 4 sections of the exam
Printed flashcards
Three half hour sessions with a CPA coach
Ultimate
Self Study and Tutoring Plan
$2,899
All features included in the Premier plan
4 hours of tutoring from an Accounting professor
Additional Excel course
​
Yaeger
Purchasing a CPA review course is a major time and money investment. Yaeger has positioned itself as a more cost effective alternative to the larger CPA study material providers. Rather than overwhelm you with multiple options that include different features and benefits, Yaeger offers one simple comprehensive program that includes all available features at an extremely competitive price point. Students also have the ability to purchase individual sections of the main course for each of the 4 main sections of the exam separately.
Click here for our full review of Yaeger CPA.
Primary 4 Course Bundle
Comprehensive Self Study Package
$1,399
Covers all 4 sections
Online & print textbooks
Over 104 hours of video lectures
Test bank practice question and full exam simulator access
Flash cards & Cram Course
Audio access to course lectures
18 month access with the ability to extend to 24 months
Individual Courses
Customized to your needs
4 Individual Comprehensive Courses limited to the material for each of the 4 exams - $399 each
Test Bank Access - $97 or $350 for all 4
​Audio Lectures - $125 each or $445 for all 4

​Cram Courses - $245 each or $445 for all 4

Becker
Becker is probably one of the most well known CPA review providers on the market. Based on their reputation for quality products, Becker is able to charge a premium compared with other CPA review course providers. For students that are not as comfortable with the underlying material and might be interested in the most comprehensive study solution available, Becker might be the right choice.
Becker offers two primary comprehensive self study options: the CPA Review and the Becker Bundle. You also have the option of purchasing a single course for each of the 4 section of the exam.
For more information, see our full Becker review.
CPA Review
Comprehensive Self Study Package
$3,393
Option of choosing self study, live online, or live program options
Curriculum fully integrated across your computer, tablet, or mobile device
Adapt2u technology customizes a learning plan and tracks analytics based on your skill level
100 hours of lectures with printed and ebook textbooks
Over 6,200 multiple choice questions and 300 task based simulations
Becker Bundle
Self Study Package + Final Review
$3,487

All features included in the CPA Review course
Digital Flash cards
Online final review designed to assess your readiness prior to exam day

Gleim
Gleim Exam prep is a well known provider in the prep course industry. The Company creates detailed and comprehensive courses for a variety of subjects including accounting. The Company's CPA review course offers three options based on your preferred study habits and confidence levels. With over 40 years providing accounting prep materials, you can be confident that the study materials offer a great combination of successful results driven by efficient material and updated technology.
Test Bank
Practice Question Access
$999
Full Access to online test question database
Over 10,000 multiple choice questions and task based simulations
Digital or Physical textbooks
​​

Traditional
Comphensive Study Plan
$1,599
All features included in the Test Bank
Proprietary Smartadapt technology that designs a study plan based on your knowledge
Digital and Physical textbooks
Audio lesson access
Premium
Enhanced Self Study Plan
$1,999
All features included in the Traditional plan
Over 100 hours of video lectures
Access to Gleim Accounting Experts
Access until you pass
---